Competitive research can transform any aspect of your business, including website development. Websites are essential tools in boosting credibility, revenue, and leads. However, if you leave potential clients with a bad experience, 89% of them will likely end up buying your competitors' products or services.
Recent data from Crayon, a Boston research firm, reveals that 41% of business professionals strongly agree that competitor analysis is crucial for success. We agree with these specialists. After all, it's one of the most cost-effective ways to delve deeper into consumer habits and preferences.
Read on to learn more about this technique and how to apply it to your website content.
What is Competitive Research?
Competitive research analysis is a strategy specializing in collecting and analyzing vital information about your direct and indirect competitors. It's a crucial tool for learning your competitors' techniques and how big of a threat they pose to your success.
For example, if you own a company that manufacturers commercial playground equipment, you can use tools like Ahrefs (example below) and find competitor keywords or questions users are asking to begin your research.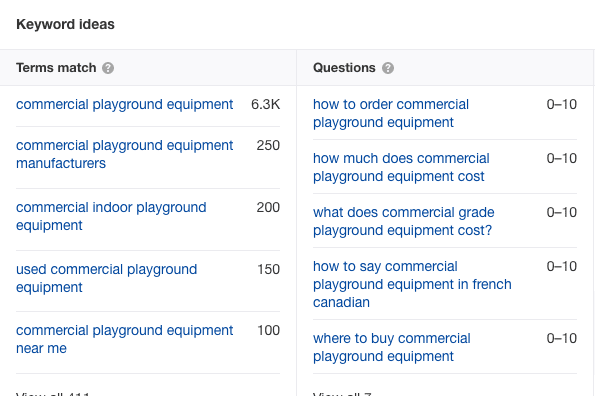 Below are some advantages of doing your competitive market research.
Develop your unique selling proposition (USP): When you understand the strengths and weaknesses of the other industry players, you can revisit your USP. You can enhance it to address pain points that your competitors don't fulfill.
Enhance your marketing efforts: With your improved USP in mind, you can produce campaigns that communicate how you can improve your clients' lives.
Discover potential threats: Research can help you detect business risks and find ways to avoid them.
5 Essential Ways to Run Competitive Analysis Research
Now that you know what competitive research is and how it can help your business, it's time to discuss five ways to run competitive analysis research.
1. Identify Your Top Ten Competitors
Before you start your research, identify your top ten direct competitors. They are the companies that sell the same products or services as you do.
If you want to pick out your direct competitors, study your products or services' value to your clientele. Here are some ways to recognize them:
Internal meetings: Ask your sales team about the brands they often come across during the sales process.
Social listening: Check out online communities, forums, and reviews to learn the other brands your clients love.
Keyword research: Find out which organizations try to grab your space in the digital world.
2. Analyze and Compare Competitor Content
If you want your website to stand out in a sea of competition, find out what your competitors talk about on all their brand pages. You can find valuable information on these platforms:
Websites
Videos
Blogs
Social media pages
Newsletters
Notice the tone they use and how often they engage with their clients across different digital channels. Additionally, you can also check out their engagement levels, including likes and shares.
3. Run Traffic Analytics
Nowadays, there's a variety of tools like SimilarWeb ideal for traffic analysis. SimilarWeb (which offers a free version) can help you get an estimate of your competitor's traffic and to see breakdowns of things like channels (where they get their traffic from), top referrers (which websites link to them), which ad platforms they are using, etc.
When you run this type of competitive research analysis, you can get a sense of what channels are the most prevalent in your industry and then compare them to your own stats to see if you are lagging in any way. You can also find channels that your competitors aren't using as much and maybe find a way to gain some share that others are missing.
4. Use Backlink Analytics
Backlinks are some of the most crucial elements of SEO, which can boost your site to the first page of search engines. Google takes backlinks as signs that you provide site visitors with quality content for particular topics.
Backlink analytics enables companies of varying sizes and industries to build an effective digital strategy for websites. You can use a tool such as Ahrefs for gauging how well your competitors are doing, which you can use as your benchmark. This will allow you to see what links are currently pointing to the site, which links are broken, and if there are any trends you can spot between multiple competitors.

You may notice that multiple competitors have links from the same sites. If so, this will give you a great opportunity to see how competitors are positioning themselves in the market and where you need to build your presence and win some links.
5. Identify Gaps and Areas for Improvement
Performing competitive research analysis should give you a better understanding of your rivals' digital marketing efforts. Once you gather all the information you need, it will be easier for you to find gaps and areas for improvement.
You can use your research findings to improve your website content, SEO strategies, and visitor engagement. Once you discover new markets, trends, or pain points, you can drastically boost your leads, conversions, and sales.
Leveraging What You Learn from Competitive Analysis
Creating an innovative, relevant website is one of the best things you can do for your company. It can help your business see drastic growth. However, if you don't offer valuable content to your potential clients, they will most likely leave and bring their business elsewhere.
The information you learn from the competitive research analysis can help you identify opportunities to make your website better by giving you ideas for how to uniquely position your company and provide content that does a better job of answering key questions in a way that will help establish your authority and build trust for your brand.
If you have exceptional products and world-class customer service and still can't achieve your goals, competitive research analysis can do wonders for your organization. Schedule a discovery meeting today to take the first step toward growth.