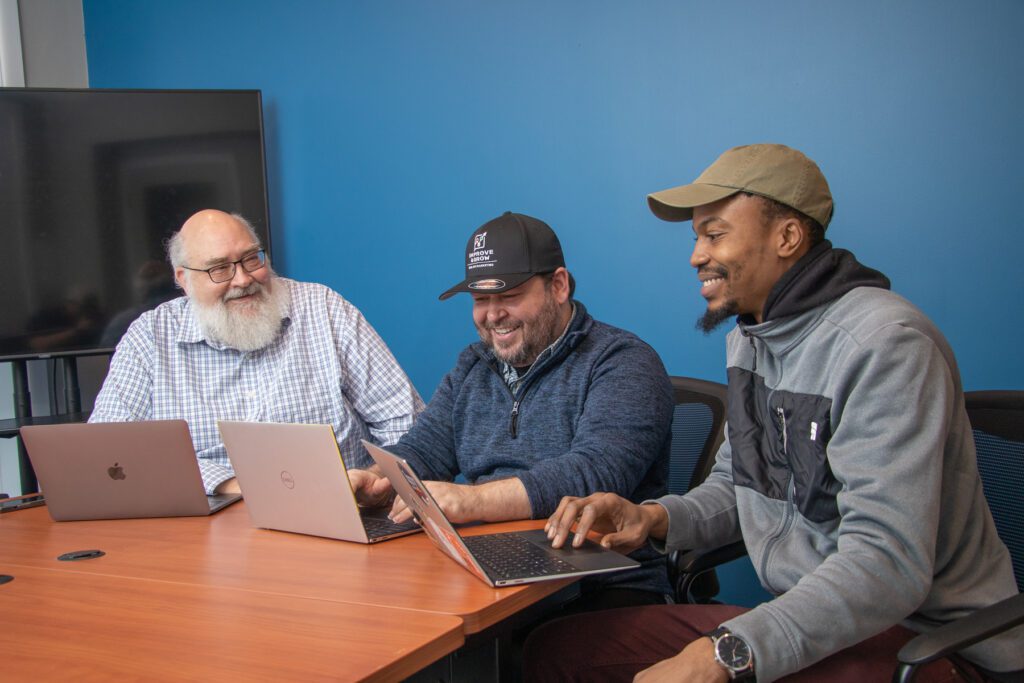 Light Up the Digital Pathway, One Click at a Time
Pay-Per-Click Management Services
In the ever-evolving digital marketplace, capturing attention is only half the battle. The real challenge? Turning that attention into tangible action. Improve & Grow understands that while organic efforts lay a strong foundation, sometimes you need a more direct approach to lead potential customers straight to your door. This is where our PPC (Pay-Per-Click) Campaign Management Services come into play. Merging strategy with execution, we design PPC campaigns that don't just target, but captivate and convert.
Are You Missing Out on Key Opportunities?
Are you frustrated because your website isn't showing up on the first page of Google?
Do you wish that you had more control over getting interested buyers to visit your website?
Do you feel like the people who are visiting your website are just browsing and not ready to buy?
Are you disappointed because the ads you are running don't appear to be working?
I&G will get results from your paid ad campaigns
The Role of PPC in Your Inbound Lead-Generation Journey
The beauty of PPC lies in its immediacy and precision. In a world where users are overwhelmed with information, PPC ensures that your message stands out to those who are actively seeking your offerings. While SEO plants the seeds for long-term growth, PPC is the spark that can ignite immediate interest and action, making it a powerful tool in your inbound lead-generation strategy.
Gain immediate visibility within your target audience
Get a quick boost of qualified traffic to your website
You'll have very precise control over your targeting
Visitors from ads will be more likely to convert
You can adjust your budget as needed to increase or decrease leads
Meeting Active Seekers Head-On
Every day, millions take to search engines with specific intents, needs, and questions. With Paid Search Ad Campaigns, you have the unique opportunity to be the solution they discover.
Benefits & Strategies include
Position your brand directly in the line of sight of those actively searching for your products or services.
Craft compelling ad copies that resonate with specific search intents, ensuring higher click-through rates and conversions.
Optimize your ad spend by targeting high-value keywords that align with your business objectives and audience preferences.

Social Media Marketing Ad Campaigns
Building Brand Stickiness
Social media has transformed from a simple communication tool to a powerful platform for brand-building and customer engagement. With our tailored Social Media Marketing Ad Campaigns, you can tap into this potential seamlessly.
Strategies & Advantages include
Position your brand prominently on users' feeds, ensuring visibility and top-of-mind recall.
Remind past visitors of their interest in your offerings, nudging them towards conversion with customized ads.
Develop visually striking ads that resonate with the unique culture and vibe of each social platform, ensuring better engagement and shareability.
Display & Retargeting Ad Campaigns
Amplify Your Digital Footprint
Go beyond the confines of search engines and social media. With Display & Retargeting Ad Campaigns, put your brand on the digital map, ensuring you're seen, remembered, and revisited.
Highlights & Techniques include
Showcase your brand on a vast network of popular websites, expanding your reach and reinforcing brand awareness.
Serve ads based on user behavior, ensuring relevancy and higher chances of re-engagement.
Rotate and adapt ad visuals and messages based on audience segments and their online behavior, ensuring fresh and pertinent content.
Transform Browsing into Buying
Social media has transformed from a simple communication tool to a powerful platform for brand-building and customer engagement. With our tailored Social Media Marketing Ad Campaigns, you can tap into this potential seamlessly.
Strategies & Advantages include
Unlike traditional text-based ads, Shopping Ads showcase product images, details, and prices right within search results, providing users with a snapshot of what you offer before they even click.
Capitalize on high-intent searches by positioning your products directly in front of users who are actively looking to buy. Be the brand they click on when they're ready to make a purchase.
Direct Link to Product Pages
Minimize the steps between discovery and conversion. Users clicking on your Shopping Ads are taken straight to the product page, streamlining their buying journey.
Ensure accurate and up-to-date pricing information in your ads, reflecting any ongoing promotions or discounts, so users always see the most current offers.

Ignite Your Lead-Generating Engine with PPC
While organic strategies set the stage, PPC acts as the spotlight, highlighting your brand's value proposition at the most opportune moments. Want to see how PPC can seamlessly blend with and boost your comprehensive digital marketing strategy? Unearth the potential of a holistic approach with our Growth Road Map.
More About Pay-Per-Click Advertising
The fight for the first page is real for any industry, and with so much noise it can be difficult to decide where and how to invest in marketing strategies that drive sales. Pay-per-click (PPC) ads are the fastest way to drive highly qualified traffic to your website, and they typically result in better-than-average conversion rates. You also have precise control with targeting options for keywords, locations, devices and much more. However, with all of these options, it's possible to make some pretty big mistakes and waste a lot of money on poorly designed ad campaigns. That's where a good PPC ad campaign can make all the difference.
With the right approach and a well-researched strategy, you can pay your way to the first page of Google while increasing your bottom line. That said, we've seen many business owners fall victim to costly paid ad campaigns that lose them money and time. That's where we come in — we help launch, optimize, and maintain profitable ad campaigns on Google, Bing, Facebook, Instagram, LinkedIn, and beyond.
Our approach to making you more money with a PPC campaign begins with our proven process of developing a target advertising strategy that is informed by deep market research and competitive analysis. The result is a predictive model that estimates your results based on target market share and your budget.
If the model shows that you can get a positive return on investment (our goal is 2-3x return), then we can move forward to developing and launching the campaigns, followed by our monthly optimization, which is vital to improving and maximizing profitability.
Connect the Clicks with a Comprehensive Strategy
Every PPC campaign is a unique opportunity – a doorway to conversion. Yet, isolated tactics can only do so much. To truly harness the power of PPC, you need a strategy that connects each click to a broader inbound lead-generation journey. That's where our Growth Road Map comes into play.
Strategies & Advantages include
Dive deep into the nuances of your business, audience, and goals. Let's craft a PPC strategy that's not just about clicks but about meaningful, profitable engagements.
Understand the bigger picture. See how each PPC campaign fits within your wider digital marketing ecosystem, and make informed decisions that maximize ROI.
From campaign conception to performance analysis, let us guide you every step of the way, ensuring that every ad dollar is put to optimal use.
Ready to transform your PPC efforts into a powerhouse of lead generation? Start with a strategy that ties it all together.
Frequently Asked Questions​