Web Design & Development Services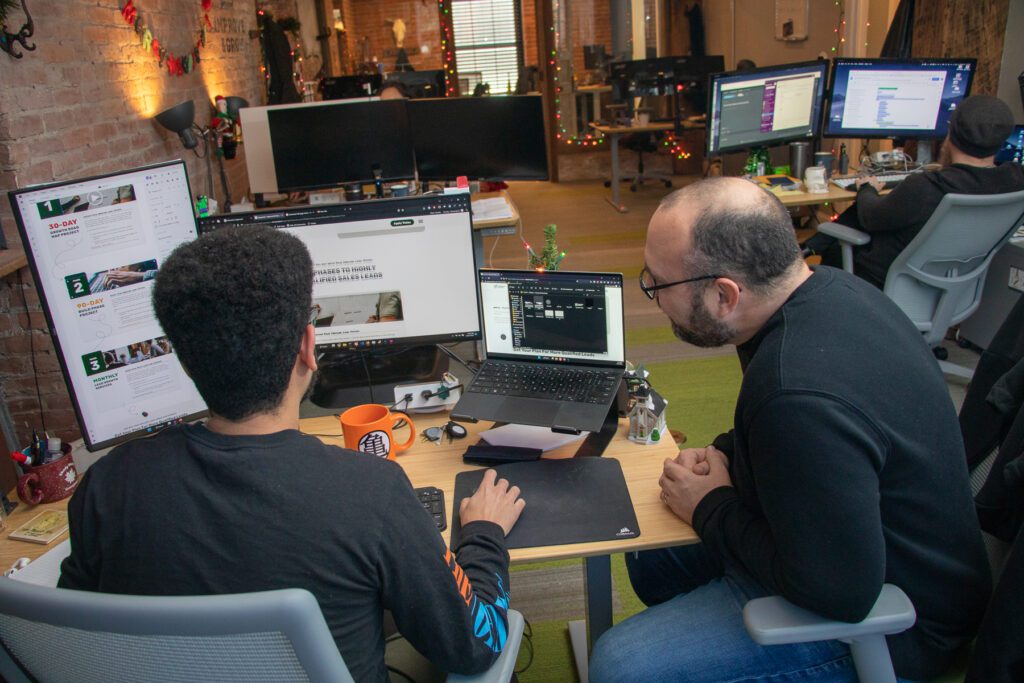 Where Good Customer Experience Starts
Crafting Digital Experiences That Drive Growth​
In today's digital age, your website isn't just a virtual storefront. It's a dynamic platform that can captivate visitors, tell your brand's story, and convert casual browsers into loyal customers. At Improve & Grow, we fuse creativity with strategy, turning your website into a powerful tool for inbound lead generation. Let's transform your online presence into an engaging, conversion-focused experience.
Is your website failing to make you money?
Are you concerned that your website is old, outdated, or not up to industry standards?
Are users contacting you with questions about things that you try to explain on your website?
Not getting enough sales leads through your contact form?
Are your website visitors having a hard time understanding what you sell?
Your Website Is Always On...
The Crucial Role of Web Design & Dev in Lead Generation
Every online journey starts with a click. But what happens after that click determines if a visitor becomes a lead. This post-click experience is where web design and development shine, creating a digital environment that's not only visually pleasing but also optimized for lead conversion.
The Benefits of a user-focused Website experience:
Deliver more consistent profit-building sales activity
Allow potential customers to better understand your offer before they contact you
Put your customers in a better buying mood when you meet their expectations
Increase leads as you nurture your customers to the point of purchase
Work 24/7 to engage your customers whenever they are ready
Your Brand's Visual Storyteller
A well-designed website reflects your brand's values, mission, and uniqueness.
Craft visually stunning pages that capture attention and evoke emotion.
Align design elements with your brand ethos for a consistent and memorable user experience.
Resonate with your target audience by understanding their preferences and needs.
The Backbone of Your Digital Strategy
Great design needs solid framework. Our web development practices ensure
Robustness and reliability, minimizing glitches and downtimes.

Integration of cutting-edge technologies for a seamless user experience.

Adherence to best practices for scalability and longevity.
Guiding The Digital Journey
A website should be more than pretty—it should be purposeful.
Streamline navigation paths for intuitive user experiences.
Prioritize actions and conversions with strategic layouts.
Create memorable interactions that encourage return visits.
Engage the On-the-Go Audience
With the world browsing more on mobile devices, adaptability is key.
Design with a mobile-first approach, ensuring perfect rendering on all screen sizes.
Optimize touchpoints and actions for mobile users.
Enhance loading speeds for an uninterrupted mobile experience.
Turn Browsers into Buyers
Elevate your online store with:
Secure checkout processes and payment gateways.
Intuitive product browsing and search functionalities.
Scalable solutions that grow as your business does.
The Need for Digital Speed and Efficiency
It's not just about looks; it's about performance.
Improve loading times and responsiveness.
Seamlessly integrate SEO best practices.
Ensure consistent performance across devices and browsers.
Continuous Care for Continuous Growth
Your digital presence requires ongoing attention.
Regular updates to keep up with industry standards.
Proactive security checks to safeguard user data.
Performance optimizations to ensure your website remains in peak condition.
Stability, Speed, and Support
Behind every reliable website is a robust hosting platform.
Minimize downtimes and ensure 24/7 website accessibility.
Achieve faster page loads with optimized hosting solutions.
Get expert support to tackle challenges swiftly and efficiently.
Move visitors to action-takers
Conversion Rate Optimization (CRO)
Every website visit is a chance to influence decisions, build trust, and deliver value.
Delve deep into user behavior to understand motivations, pain points, and barriers.
Refine every touchpoint, from captivating CTAs to intuitive forms, ensuring a seamless user journey.
Boost ROI by maximizing conversions, whether it's form fills, phone calls, or online purchases.
Harness the true potential of your website traffic and turn passive browsing into proactive engagements.

Unlock Your Brand's Full Potential
Remember, a website isn't just about aesthetics—it's a strategic tool in your lead-generating arsenal. Want to see how your website fits into a larger, cohesive inbound lead generation strategy? Dive into our Growth Road Map to understand how every piece, including your website, works together in harmony.
More About Web Design & Development:
Website Design & Development
Designing and developing a profitable website that supports your sales funnel takes more than just building a website. Your website should be your hub for your online sales funnel. Because of that, we're driven to think a little differently when we build sites for our clients. We build and design websites for companies in Lancaster, PA and all across the USA.
Here's how we approach helping you build a better website
We start by documenting your business goals related to the new site, define the scope and budget, and personalize your target audience.
Next, we begin exploring, colors, mock website designs while we begin to outline how the site will fit into your online marketing strategy.
Then, once designs and strategy are approved, we develop your new site along with any content that needs to be created.
Finally, we will launch the site and we begin to monitor performance and continually optimize and improve your site.
Conversion Rate Optimization (CRO)
When monitoring the metrics of a website, it's easy to be distracted by the "Site Visits" and "New Users" numbers. Often, we need to focus on the actions users of our site take that show they are moving closer to buying
"Conversions" is the term that we use for these actions, and conversion rate optimization is what we do to increase the frequency of those conversions. For instance, two of the most obvious conversions that we like to see on a website is phone calls or website form fills. Some other conversions that we like to define and foster are time spent on page, engagement with content like videos or downloads, or even how far down a page they scrolled.
Our approach to Conversion Rate Optimization
Audit, optimize, or define page goals
Develop an in-depth understanding of how the user engages with the page through the use of website monitoring software
Make changes to your website based on real user feedback
Continuously optimize the users' experience on the website
Develop dedicated landing pages with messages that are geared toward the potential custom
Website Maintenance & Hosting
No longer can businesses have set-it-and-forget-it websites. Technology changes fast, and security issues are a constant serious threat. And search engines like Google, Yahoo, and Bing are constantly changing their criteria for what makes a good website.
For 95% of our clients, we provide monthly, on-going website support and optimization that
Keeps website content clean and fresh
Keeps search engines delivering their pages to users
Gives them peace of mind that when something happens, they have experts who will respond promptly
Gives them a competitive advantage through access to experts in development, marketing, content, and technology.

Build a Lead-Gen Engine, Not Just A Website
Improve & Grow doesn't just build your website. From the first glance to the final click, I&G helps you use every part of your online presence to  influence a visitor's journey towards becoming a lead.
Want to redesign your online presence?
Ready to optimize for better performance and lead conversion?
Eager to explore how all these services seamlessly integrate with a lead-generating strategy?
Don't wait for another missed opportunity. Discover how Improve & Grow can use your website to become a lead-generating powerhouse.
Frequently Asked Questions​