The 30-DAY Growth Road Map PROJECT
Chart the course to grow your revenue profitably
Discover the proven process technology, consulting, and professional service companies use to develop a data-backed digital marketing strategy so they can growth their revenue by 30% or more without resorting to random acts of marketing…
Your 30-Day Growth Road Map Project gives you a detailed plan for building your inbound lead system.
This done-for-you service allows you to avoid resorting to random acts of marketing and wasteful spending.
In 30-days the I&G team will develop a data-backed road map with the tactics, timeline, and detailed marketing budget designed to get you the high-quality sales leads you need to reach your 12-month sales goal and beyond.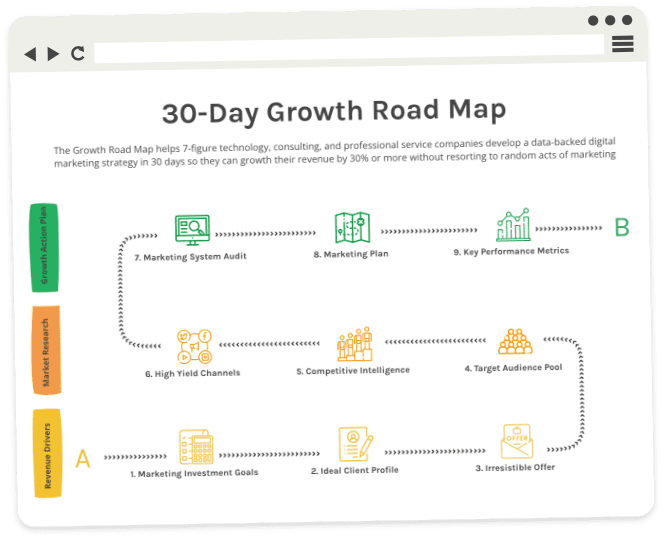 Your Growth Road Map will have 3 Phases...
Phase 1 will:
Determine marketing investment goals — we help you set marketing goals that align with your sales process and financial targets
Develop your ideal client profile — we study your client data to help you identify the traits of your best fit clients
Construct your irresistible offer — we help you craft an offer statement that will resonate with your ideal fit prospects
Phase 2 will:
Build your target audience pool —  we build target audiences that align with your ideal client profile
Gather Competitive Intelligence — we find the top channels and tactics your competitors are currently using online 
Isolate High Yield Channels — we help you discover which channels will work best to reach your ideal prospects
Phase 3 will:
Audit your existing marketing systems — we review your website, content, campaigns, etc. to identify improvement opportunities
Develop your detailed marketing plan — we develop a step-by-step plan for the first year of your lead generation campaigns
Identify key performance metrics — we estimate your traffic, leads, customer, and revenue so you can project your return on marketing investment and track your progress every at every step
Frequently Asked Questions

How Will More Qualified Leads Change Your Business?
Get Your Plan For More Qualified Leads
Every Inbound Lead System Starts With A Growth Road Map.