Executive Summary
Strasburg Scooters is a guided scooter tour company located in Strasburg, PA that had been looking for opportunities to increase their tour bookings. After being recommended by two other Improve & Grow clients in the tourism space who had seen tremendous results, Strasburg Scooters decided to partner with us to help them with their digital marketing efforts. Over the last two years, they have seen a 73% increase in seasonal website traffic and a 98% increase in annual website revenue.
The Challenge
As an entrepreneur, Marc Crusemire, owner of Strasburg Scooters, was experienced in the nuances that come with owning and running a business. However, marketing was one area where he knew he needed outside help. After meeting with a group of other local attraction owners, he heard stories of the extraordinary success that two of the outdoor attraction businesses in the area were having. Marc spoke with each to learn what they were doing differently. Both were Improve & Grow customers and recommended that Marc spoke with us to determine if we could help him in his tourism marketing efforts in the same way.
The Solution
Growth Road Map
Our first step was to conduct a Growth Road Map project to develop a comprehensive digital marketing strategy backed by in-depth market research and competitive benchmarks. A key component of the project was the provision of detailed projections of how the business would grow as a direct result of the proposed strategy. The projections were backed by market data and competitive benchmarks as well as our experience with similar customers. The Growth Road Map also exposed key opportunities to improve his website traffic and conversion rates. Our proposal gave Marc the confidence to invest in our services, trusting he would see a nearly immediate return on investment with the projected growth in bookings.
Build Phase
In the Build phase, we focused on improving their current website's conversion rate by implementing several key enhancements to the header, footer, homepage, and tour landing pages. We also developed organic search engine optimization (SEO) and pay-per-click (PPC) search campaigns to help drive more qualified traffic from uses that were searching for things to do in Google and other search engines.
Improve Phase
We launched the new SEO and PPC campaigns in conjunction with the improved website. Over the next few months, we worked to refine and optimize the search ad campaigns based on their performance. We also executed various on-site and off-site SEO tactics to begin increasing organic search rankings for important keywords. Marc immediately noticed an increase in tour bookings and ultimately closed that season with a 30% increase in revenue.
Growth Phase
Once the foundational SEO and PPC campaigns were "dialed in" we began to work on incremental improvement opportunities including optimizing various aspects of the website, developing blog articles to attract more search traffic, conducting outreach to gain backlinks from local and industry websites, and developed a multi-step Facebook Ad campaign to develop awareness within the target audience and remarket to users that had visited the website that had not yet made a booking. At the close of our second season working together, Marc's business had grown by another 48% from the prior year. This is even more impressive when considering that the second year included a 2.5 month shutdown in the middle of the season due to the COVID-19 pandemic.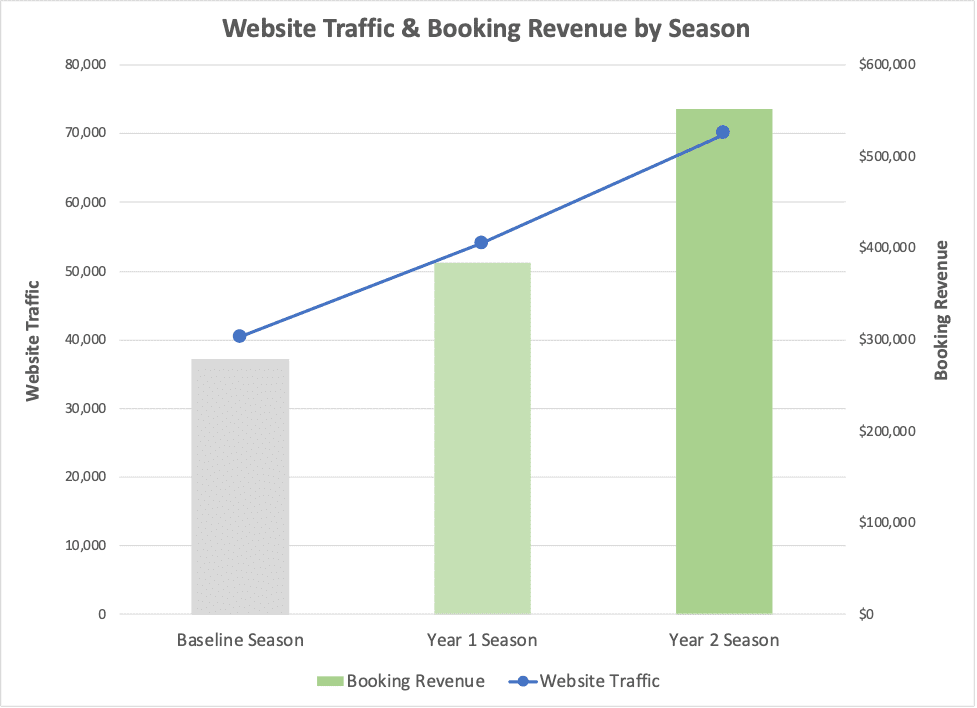 The Results
After working together for two years, Strasburg Scooters saw a 73% increase in seasonal website traffic and a 98% increase in annual website revenue. An important key to these incredible results was our shared focus on making changes that would increase bookings versus just implementing specific marketing tactics. This meant our team was constantly evaluating the performance and adjusting our approach, including pausing underperforming campaigns, and developing new campaigns to capture new opportunities. Our extensive experience in the tourism industry was also a factor as we understand their market, the seasonal nature of their business, and have a firm grasp on what actions to take to generate more tour bookings and achieve a high return on investment.
"I run a scooter tour business in Lancaster, PA. We were looking for an agency that could help us generate more bookings from our website. Improve & Grow didn't just offer us a standard SEO package, they helped us develop a comprehensive digital marketing strategy with all of the numbers to back it up. In our first year, we grew by over 30%, and we are already crushing last year's sales, despite a 2 1/2-month shutdown due to COVID-19! The team is very responsive and fun to work with."

Marc Crusemire, owner of Strasburg Scooters
Want to see your bookings grow like Strasburg Scooters?
[button class="primary" text="Schedule a discovery call with Improve & Grow" url="#schedule"]