Content marketing can be instrumental to the success of your business because it empowers you to communicate effectively with your target audience.
Content marketing is a constructive way to reach potential customers where they are in their buying journey. According to the Content Marketing Institute, this modern marketing strategy concentrates on the creation and distribution of content that is relevant and useful to your target audience.
In the long run, producing quality content effectively could lead to benefits that could boost your company's growth. The potential positive effects include reaching a wider audience, higher sales, cost savings, and loyal customers.
If you are interested to learn how to improve your website content, read on. Learn how to expertly brainstorm content ideas for your business website.
What is Content Marketing?
Content marketing is the creation, publishing, and distribution of useful content for a targeted audience online. Rather than traditional marketing, where the focus of the content is brand awareness and exceptionalism, content marketing directs businesses to create content that naturally will be compelling to the target audience by virtue of utility or, in some cases comedy. While both forms of marketing aim to attract attention and generate leads, expand the customer base, increase online sales, increase brand awareness or credibility, only content marketing is designed to engage users, by focusing on their motivations and interests.
In a nutshell, businesses use content marketing is utilized to attracts new customers by creating and sharing valuable free content.
3 Ways You Can Brainstorm Content Ideas for Your Business Website
Here are three constructive ways that you can brainstorm with your SEO content writer and the content marketing team. Find out how you can produce valuable pieces of content for your website together.
1. Review Your Business and Marketing Goals
Even if you're getting digital marketing services from professional marketers, you still need to have a clear idea of how the direction of your website efforts should flow. The best way you can do this is to have a comprehensive understanding of the nature of your business and your goals.
First of all, be aware of what exactly your business is and who your target market is. For example, you own a smart lock business in Lancaster, PA. You have decided that your primary target audience (read: potential clients) are tech-savvy rental property owners in their 30s and 40s who live throughout the USA.
Digging even further, you know that your audience can be organized into unique segments of the buyer's process, and your marketing efforts should target each differently. For example, someone who knows nothing of smart locks will certainly browse your content differently than someone who's determining which smart lock company is best to patronize. An effective content marketing strategy will help you engage your audience at each step – we will touch on this aspect in more detail later on in this post, but it's important to keep this basic information in mind as you develop your website content strategy.
Next, you should pinpoint the specific marketing goals of your business. Perhaps you are aiming to build brand awareness or brand loyalty, especially if your smart lock business is relatively new compared to your competitors. However, if your business is fairly established and well-known, you can focus your efforts instead on customer engagement, lead generation, lead conversion, or upselling.
Most marketing goals are worth the effort. However, you need to decide which specific marketing goals are most relevant to your website development based on the particular circumstances and objectives of your business.
2. Answer Your Target Market's Questions and Meet Their Needs
The focal point of content marketing is your target market. It's all about them and content that is directly useful and relevant to your audience. It's all about what they want: information that helps answer their questions, meet their needs, and resolve their issues. To be specific, there are three major stages to the buyer's journey, and it's up to you to find where your messaging comes into play at each stage. For example: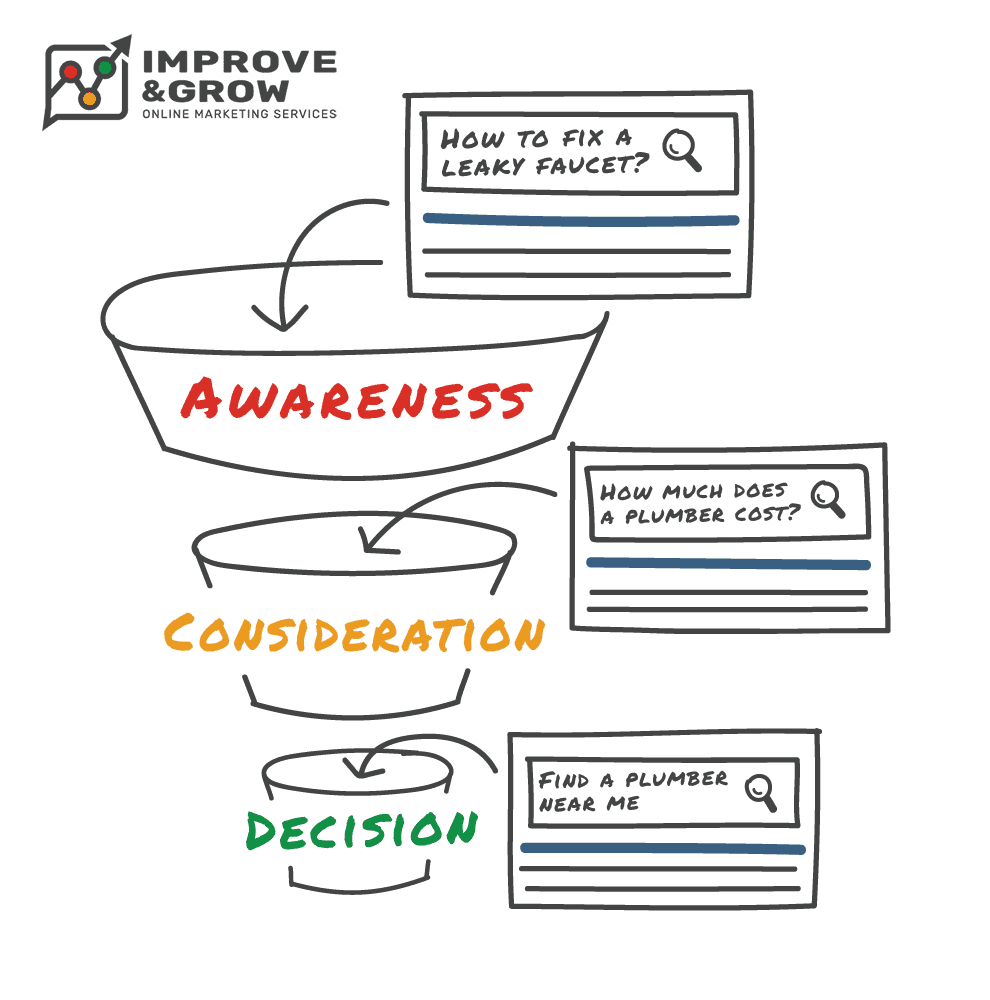 Awareness – A member of your target audience has become aware of a problem they have but don't know how to resolve it. Using the smart lock example, someone in this stage might search Google for the term, "what are different ways I could secure my home?". A result that would attract a user asking this query would be a blog post that shares comparisons for home security options complete with pricing, pros and cons, feasibility and plenty of options. By helping them find an answer, you are already improving your stature as an authority on the topic of home security.
Consideration – At this stage the user has diagnosed their problem, and is exploring options to resolve it. Someone in this stage might ask; "how would it cost to add smart locks to my business?". A smart piece of content to show this user would be a contact form that calculates a cost estimate based on how many doors they have, how many users they have, and other important data points.
Decision – Users at this stage have determined solutions that would work for them, and are in the process of picking one that stands out from the rest. Someone might ask questions like, "What kind of support do you offer", or "How long do your Smart Locks last" or "Do you offer a warranty?". The answer could be an FAQ page that provides answers to all of those questions.
You can reach out to your target market by using relevant content marketing pieces in place of or alongside traditional marketing. For instance, if you have a smart lock business in Lancaster, PA, you shouldn't limit your content to product pages that list the benefits of your access control systems, you should develop different types of content that satisfy the questions your audience would have.
To catch the attention and interest of your target market, you should consider featuring informative blog posts about the general advantages of smart locks and smartphone access control. You may also share practical tips on how to improve business security.
3. Use Google Keyword Research Tools
Aside from creating content that your target audience will value, you need to make sure that your potential customers will easily find this content on the internet.
Search engine optimization (SEO) is crucial to helping your target market actually access your website and read your content. That's why keyword research is essential to your content marketing efforts.
Thankfully, there are many Google keyword research tools available online. If you are searching for keywords for your smart lock website, you can try using some popular keyword research tools like Ahrefs, Semrush, and Google Ads Keyword Planner to improve your website's search engine visibility.
Choosing the right SEO keyword research tool can make it possible for you to streamline your SEO workflow. It will help you discover the right keywords to target for your business website.
Using the smart lock business example, (and our own research methods) here are some keywords that would be useful for you to consider:
How do smart locks work
How secure are smart locks
Where to buy smart locks
How can I remotely lock my home
Best smart locks for office
Based on these queries alone, you can determine which buying stage each is likely to fall into. These are are your content seeds, from which you should be growing content that addresses each in a relevant and useful way. Speaking of utility, finding these seeds takes about fifteen minutes, granted you've done your research on your target audience.
Revitalize Your Website Content With the Help of Improve & Grow
You can unleash the power of targeting through content marketing strategies to grow your business. Marketing services from a reliable digital marketing company can play a significant role in breathing fresh life into your business website.
Whether you own a small startup or an established company, the services of a professional SEO content writer can revitalize the content of your website. Discover how to improve your website content with the help of Improve & Grow. Start your journey with our growth roadmap today!