The landscape of SEO and link building is constantly changing and adapting. While the importance of high-quality inbound links has never been higher, Google is no dummy at detecting unnatural links. Search Engines can quickly identify websites that approach link building the wrong way. 
That is where we step in! Improve & Grow has the processes and experience to help filter more potential customers to your website. One of our SEO services is link building. Link building is a process where we reach out on our clients' behalf to relevant websites, blogs, industry resources, and influencers. This service gains links, shares, and connections that drive inbound users to our clients' sites.
What Is Link Building?
Much like traditional Public Relations, link building is the process of getting your business noticed and connected to other websites through digital links. These links may consist of guest blogs, local listing profiles, online articles, brand mentions, and more.
We love to think of link building as a "digital form of networking."
Link building is one of the most important factors for organic SEO and helps determine your brand's online visibility. Although it's undoubtedly crucial for digital marketing success, 41% of large companies consider it to be the most difficult SEO tactic. Are you practicing it in your business? 
The Link Building Impact vs. Effort Matrix
Like many digital marketing tactics, some approaches are well worth your time, and others may not be the smartest investment. When you begin to build links, ask yourself these three questions. 
First, is the link going to be worth your time?
Next, is the link going to help your website grow?
Lastly, is the link worth the effort you put in to get it?
If you're unsure of how to answer these questions, we encourage you to use our Link Building Impact vs. Effort Matrix. Identify where links you want to pursue fall within the matrix. Links that are high impact should be prioritized over those that produce less SEO value.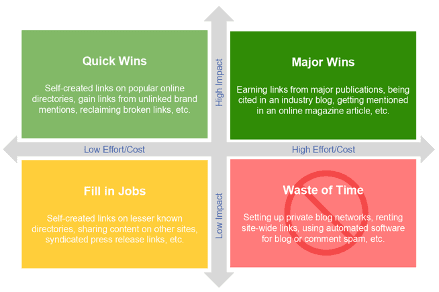 Five Practical Approaches to Building High-Quality Links
When it comes to building links, there are five main approaches that you'll want to consider. These practical methods will help you develop high-quality links and grow your online presence. 
Online Profiles include Business Directories, Social Media Profiles, Content Sharing Platforms, Map Engines, Industry Specific Resources, Local Resources. This approach ensures your business information is consistent across all platforms and creates high impact, low effort links.

Internal Linking redirects users to specific pages on your website, including service pages, product pages, and sales pages. This approach helps Google understand your website and can be used to promote specific keywords.

Broken Link Building involves restoring or redirecting old, broken pages on a website and sending users to newer, relevant pages of content on your website.

Brand Mentions are places on other websites where your name or brand has been mentioned but not linked to your site. This strategy allows you to reach out to those third parties and get links placed in the articles, blogs, and other content.

Niche Link Building, also known as the "Barnacle" Approach, involves identifying places where your audience is already visiting and finding websites that rank for keywords you're targeting. Once identified, the goal is to gain links from these websites, including travel websites, travel blogs, and local directories.
With a variety of strategies and approaches available, identifying the tactics that work best for your business can help you develop a game plan for success. When you put these approaches together, you can quickly see how much of a crucial component it is to a successful SEO strategy. These practical approaches can help you start implementing the process of link building into your business today. 
About Improve & Grow
Improve & Grow, an Internet Marketing Company in Lancaster, PA, offers link building services to the Lancaster area and beyond. As a leading internet marketing company, we understand the importance of organic SEO growth and provide solutions to help your website rank. If you have other questions, reach out to our team!