Executive Summary
Ceiling Outfitters is a Texas-based distributor of ceiling sign-hanging hardware and systems. They had an eCommerce website but weren't seeing any growth in sales. After partnering with Improve & Grow and employing tactics including pay-per-click ads and search engine optimization, they saw a 511% increase in annual website traffic, a 248% increase in annual website transactions, and a 215% increase in annual website revenue.
The Challenge
The eCommerce platform they were using at that time enabled Ceiling Outfitters to sell products on their website but had limited flexibility for developing more robust website content or tools to help promote that content. As Ceilings Outfitters grew, they realized that they needed a partner with the experience to help them promote their solutions to a wider audience.
The Solution
The relationship began with a meeting to learn more about Ceiling Outfitter's solutions, the markets they serve, and their business growth goals. We then agreed to work on a project to develop a digital marketing strategy to outline specific marketing tactics and budgets to meet their goals.
We conducted market research to identify key channels, gather competitive intelligence and establish performance benchmarks. We took a detailed look at the website they had at the time, analytics and overall online presence. We used this information to identify their most important improvement opportunities, which included website enhancements, on- and off-site search optimization, paid advertising campaigns and content marketing through their blog and social media. We provided an action plan that detailed specific tactics, timelines, budgets and projected results. After seeing that there was a clear growth strategy, supported by data and that demonstrated a good return on investment, Ceiling Outfitters decided to move forward with the proposed plan.
While there were improvement opportunities for their website, they had good products that people wanted, they just needed more people to be able to find them. So, we set up their products on Google Merchant Center, allowing them to run product ads on Google Shopping network. These ads appear above both paid and organic search results, as well as having higher click-through rates and a lower cost-per-click. After launching the ads, the website saw an immediate increase in traffic and sales. We monitored the campaigns closely, refining product and bid settings to optimize the return on ad spend.
This advertising enabled an immediate boost in traffic, but there was still a significant opportunity to grow organic search traffic through search engine optimization. Our first step to improve their SEO was to address major technical issues that were inhibiting search engines from properly indexing their content. We then focused on enhancing key pages of their website to ensure the content included important keywords and had content that addressed user needs. We also helped them to expand their online presence and develop links to their website from other websites such as directories, industry resources, and blogs.
While the results from the advertising and initial SEO efforts were helping to drive more sales, we knew there was even more opportunity to attract and convert their target audience with an improved website. Our solution for this was creating a new custom-designed eCommerce website built on the WordPress platform. We designed and developed this website with layouts specifically designed to attract organic traffic, promote their brand, educate users about their solutions, and lead them to their online store. We utilized WooCommerce to build a robust platform that showcased their products, made it quick and easy for users to purchase products, assigned accurate shipping costs and taxes, and integrated with their third-party shipping and payment solutions.
One of the goals of the website was to enable future growth. Since launching the new website, Ceiling Outfitters was able to introduce new aspects, including:
Creating new landing pages to promote their new product lines
Developing a new "Industry" section to highlight their solutions for key markets
Introducing a guided buying experience that enabled users to create custom configurations of their flagship system
Installing an email marketing plugin that enabled Ceiling Outfitters to send automated abandoned cart emails.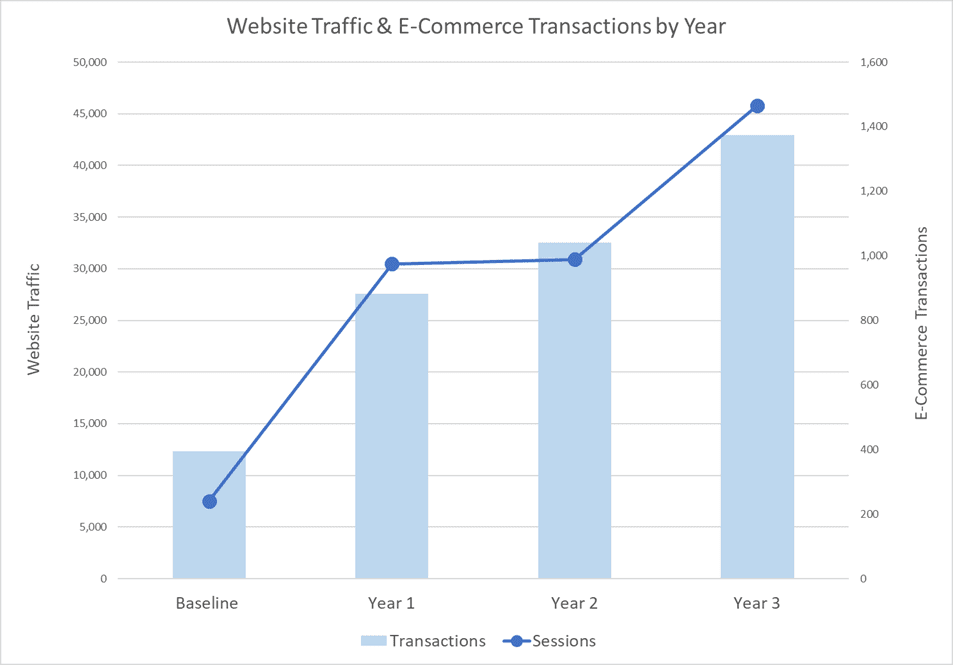 The Result
Before starting their work with Improve & Grow, Ceiling Outfitters had 7,503 sessions on their website. After one year of using our services, that number grew to 30,892. In the third year of our partnership, their website had nearly 46,000 visits. Website sales grew from $3,966 to $14,862 after just one year. Through their continued partnership with Improve & Grow and the implementation of the above steps, Ceiling Outfitters has seen a 511% increase in annual website traffic, a 248% increase in annual website transactions, and a 215% increase in annual website revenue
"Before Improve and Grow our website was with a hosting company and we were using their limited website tool. We were introduced to Improve and Grow about 4 years ago and have not looked back. We were cautious about entrusting our website to a new agency and expressed our concerns. Carl answered all of our objections, laid out the plan of action and we moved forward. They redesigned our website and began the task of SEO, PPC, creating links, and creating value in our website to help us rank at or near the top of searches. Their work has helped our business grow. They have been available for even the most basic of questions, helped us understand the process. I've had significant interaction with nearly everyone on Carl's team and found them knowledgeable, professional, and with the best interests of our business at the front of their work. Take a solid look at Improve and Grow and I think you will like what you see."

Tom Stanley, president of Ceiling Outfitters
Want results like Ceiling Outfitters?
[button class="primary" text="Schedule a discovery call with Improve & Grow" url="#schedule"]