Links are a critical, but often misunderstood and neglected, component of improving your online visibility. Depending on your experience with SEO, the term "links" or "link building" can carry a degree of stigma or even mystery. Can I get penalized? Isn't this spam? Do links really do anything? Isn't this just gaming the system?
Generally, there is a bit of a stigma that surrounds the idea of linkbuilding, and marketing professionals will argue all the time if different methods are worthwhile or just setting you up to waste time and money. So, what is the real answer?
In this post, we hope to dispel some linkbuilding myths and reinforce the relevancy, understanding, and reliability of link building as a core strategy. Moreover, it is necessary to clarify what link building is and the role it plays in your overall Search Engine Marketing (SEM) strategy.
Links Improve Online Presence
Linkbuilding can seem very, very difficult to do. The content-based outreach, relationship, trust building, and partnerships with other people can be time-consuming efforts. Yet, these efforts done over a period of time can produce high payoffs. The truth is, you can expand your brand's online presence by networking with other websites and building up authority. In turn, search engines see you as a trusted source of information.
Actual linkbuilding is pretty straight forward. It's the act of a person placing a link on a page of their website that links to yours. The benefit of the readers is an additional source of information, validating a claim, or sitting attribution. For the linked domain, it serves as a form of "referral" with an implicit endorsement of your site's creditability, telling search engines "This site is an expert on 'this link in this context'".
In response to a question about the number one and two ranking signals in the Google search algorithm, Search Quality Senior Strategist Andrey Lipattsev says, "Yes; I can tell you what they are. It's content, and links pointing to your site." (Source: searchenginewatch.com)
This is why linkbuilding, or links, is most often discussed in the realm and context of SEO: it is because search uses links as an indicator of relevance. In other words, a link is an implicit signal of trust. The more websites refer to a page, the more that page is trustworthy.
Links Aren't Just For SEO
It is no secret that links can be incredibly good for on-site or off-site SEO. In the same way, links help with way more than just SEO. As mentioned before, links are essentially an endorsement of your brand and can help users become aware of companies they wouldn't know otherwise. So why do so many companies put it off, or not do it all together?
41% of large companies consider link building as the most difficult SEO tactic. And there's a really good reason for this. Depending on the approach, links can be incredibly difficult to build. Months of research and work can have little payoff, and you're left scratching your head wondering what the point was. But, don't give up. There are ways to succeed, and the ROI can be well worth it if we know what to look for.
Here are four ways links help you:
When you can drive organic search traffic, you establish yourself as a reliable imprint in the eyes of Google.
Finding good referral networks helps to prioritize your time in more valuable ways.
Easy brand recognition can put you ahead of the competition.
Valuable relationships are developed via link sharing.
If you're getting links on pages where your target audience lives, then you are now getting awareness you probably missed out on. Again, if the user follows that link, you're getting some referral traffic, which tends to be more qualified.
Links Are A Digital Form of Networking
In its simplest form, linkbuilding is all about networking in the digital world. Similar to social networking, you're looking for places where you can connect with people you're interested in meeting.
As a disclaimer, networking may take a fair amount of time and investment. There are some outlets you work really hard for while others can often come easy. Regardless of the amount of effort, some can be fruitful while others are just a waste of time.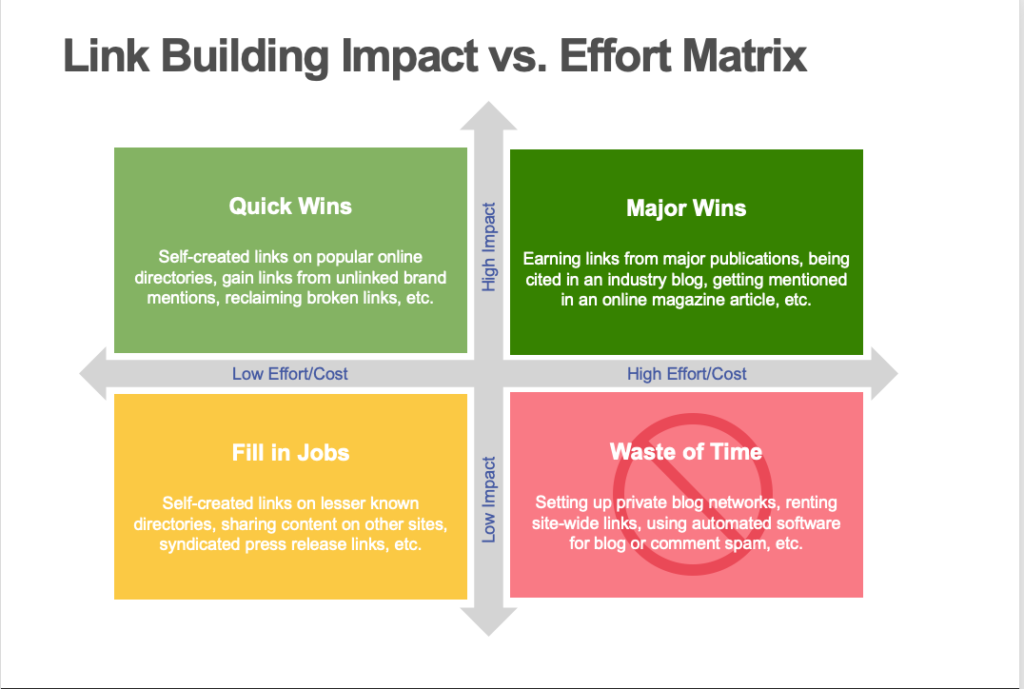 To help evaluate these opportunities, we use the impact matrix. This tool is used to take different ideas from a brainstorming session, evaluate what to focus on based on the effort required, and the impact an idea can have. It is an evaluation of the varied approaches that are worth spending time on.
Final Thoughts
With all the talk about how difficult linkbuilding can be it seems like a daunting process. However, it doesn't have to be burdensome at all. You can start with easy, practical steps, then work your way up to the hard stuff.
Knowing how links can help and why they are essential for your strategic efforts is half the battle. In this series of posts, we will discuss submitting online profiles, leveraging internal links, and reclaiming links to broken pages. Other action steps may include looking for unlinked brand mentions and using what's known as the "barnacle" approach. In the end, create content that people can love, share, and link to naturally. You read that everywhere, but it's truly the best starting point. If you need a hand in the process, development or outreach, or have any questions about linkbuilding, reach out to us. We're always happy to lend a hand a dispel any myths that are floating around (or confirm them).