Right now, people are searching online for the products and services you provide. Are they finding your business or only your competitors?
Research shows that more than 90% of buyers conduct research online before making a purchase decision and less than 10% of those users go beyond the first page of search results on Google. The non-paid results on Google search ("organic") are typically the largest opportunity to drive qualified traffic to your website.
SEO is different than other online marketing tactics (such as pay-per-click advertising) because, with SEO, you don't pay Google in order to appear. The degree of effort you need to put into SEO will vary based on the degree of competition and where you currently stand. We make it our business to understand exactly what needs to be done to get your business found online. Our online marketing assessment will help you figure out exactly what you need to do, how long it will take, what it will cost, and what kind of results you should expect.
SEO Services
Technical SEO
On-Page SEO
Local SEO
Online Directories & Citations
Online Reviews & Reputation Management
Link Building / Link Acquisition
How Search Engine Optimization Works
MEET Lisa
Lisa owns a landscaping company in Lancaster, PA.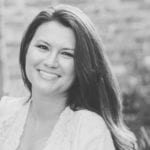 My company has been working with Improve & Grow for over a year. Since working with their polite and professional staff we have seen a HUGE growth in our website traffic and leads. Digital Marketing was a new venture for us and though I may not understand (trying to learn) ALL that they do, I TRUST them completely to do the right thing. They are amazing at customer service and I would recommend them to any company that wants to improve and grow.

Misty Skinner, Vice-President of Marketing, BR Williams
Read the Case Study
More on How SEO (and Local SEO) Works
Appearing in Google's regular search results is free, but it's difficult to show up highly in them. Search Engine Optimization (SEO) is simply a name describing the variety of tactics used to help a website appear higher for relevant queries (keywords) in the free section of search results. Showing up higher (and in more places) means that your website gets more visitors and you get more qualified leads.
There are over 200 factors that influence how Google and other search engines decide to rank your website. This video from Google gives a general overview of how Google search works; it boils down to the relevance and authority of the content on your website (increased by On-Site SEO) and how well established your website is online (improved by Off-Site SEO). The better your on-site and off-site online presence is optimized, the higher your website will rank in search results, which means your website will get more traffic and your business will get more leads.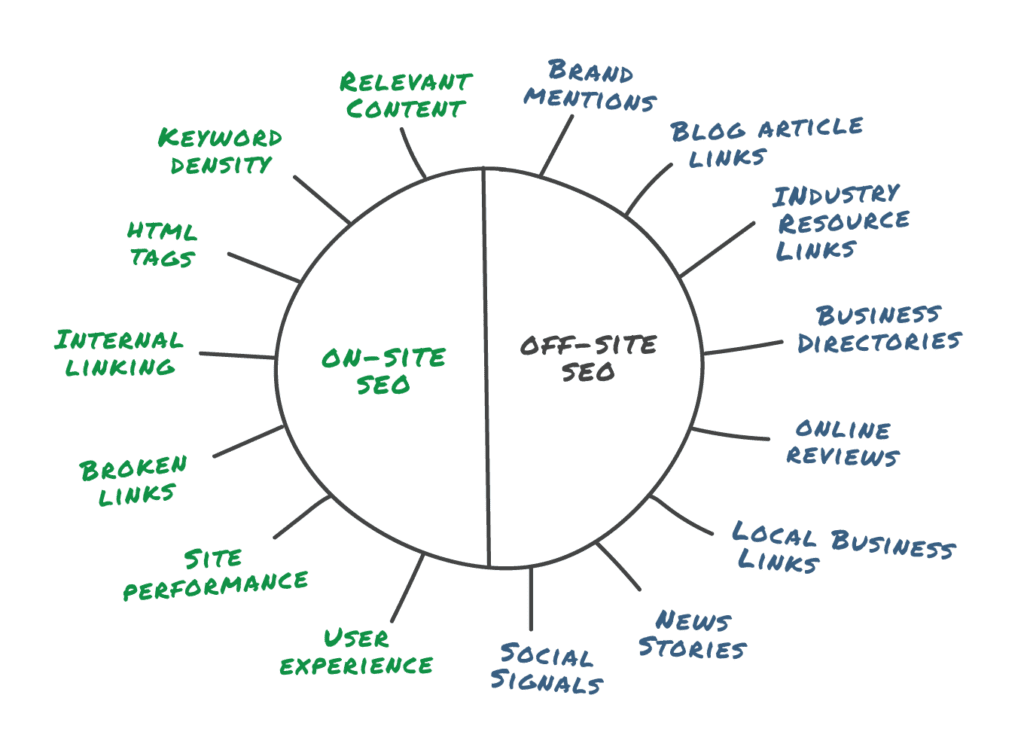 On-site SEO
On-site SEO is all about making it easier for search engines to find, understand, and trust your content as being relevant to users. Google's goal is to show users websites that are most likely to answer a user's query. On-site SEO gives Google the data it needs to understand the content and value of individual pages, as well as the site as a whole. There are two main components to On-Site SEO:
Technical SEO
When trying to understand your website and the pages that comprise it, search engines rely on information that users don't see on the page itself. Technical SEO focuses on the behind-the-scenes work of optimizing the code that makes up your website to make sure that search engines can find the site, understand its content, and properly index it so that it shows more often (and higher) in search results. This type of SEO organizes your website in a format that Google understands and can use. You might have a great-looking business website that you paid a lot of money to make, but if Google can't access and understand the information on the website as you intend it, that expensive website isn't going to show up very well in search results. Without solid technical SEO, a search engine might not show your site to users when it should, and users won't click to visit your website as often as they should. There's typically a lot of upfront work involved with technical SEO, followed by ongoing maintenance to ensure that everything is up to snuff when new content is added or changed.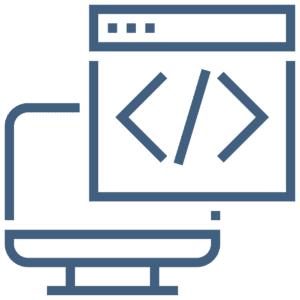 On-page SEO
On-page SEO makes the visible content of individual pages as relevant, informative, and valuable as possible, both to users and to Google. It helps the user quickly scan the page, while finding the information they want. It helps Google understand what the page is about and how it can help searchers find what they're looking for. In addition to optimizing the content you already have, on-page SEO involves creating new supporting content on a regular basis, increasing the depth of information on the page, and keeping the content fresh (both of which help the page show up higher and more often for relevant Google search results). Google compiles data on what search queries were used by people when they clicked on your site. Analyzing that data can lead to expanding a particular section on the page itself or adding an entirely new page (or blog post) about the topic.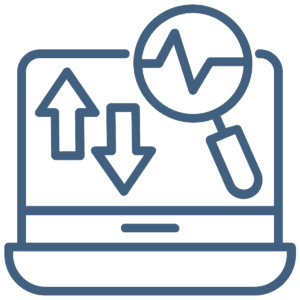 Off-site SEO
Off-site SEO is all about establishing and promoting your business entity online, getting in front of potential customers, and helping those users (and Google) to better trust and understand your business. All of this results in more visibility for your website in search results, which brings your website more traffic and leads. Off-site SEO has three main components:
Online Directories & Citations
Users want relevant and reliable search results. In order to show up highly in search results, Google needs to trust the accuracy of the data it has about your brand. It also needs to have a clear picture of what products and services your business provides. The more Google trusts the accuracy of data it has about your business, the more likely it is to show your brand to potential customers in search results. Optimizing directories is one of the most fundamental ways of helping Google trust your brand and understand your business well enough to show it highly in search results to users, resulting in more qualified visitors to your website and more leads.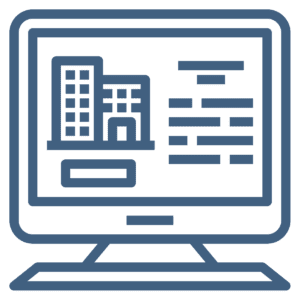 Online Reviews & Reputation Management
Reviews can make (or break) your business' online reputation. Potential clients will read reviews about your business online when they're deciding whether or not to buy from you. It's critical that there's an overwhelming amount of positive reviews (from real clients) to drown out the negative ones. But how do you get positive online reviews? Using ethical strategies, we help your business get reviews from customers that will encourage searchers to become warm leads. We can also advise you on how to respond to reviews, both positive and negative. While you can't stop negative reviews from being written (and typically can't even get them removed), you can make sure your voice is heard by responding to reviews, showing potential clients how you treat customers, listen to them, and value their feedback. Effectively responding to negative reviews may just be the thing that turns a potential client into a life-long customer.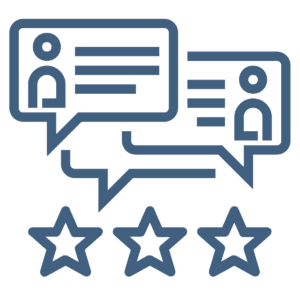 Linkbuilding / Link Acquisition
According to a recent study, links pointed to a website is the #1 ranking factor that Google uses to decide what page to show users. Think of a link from one site to another as a vote of confidence. Google sees all of the votes for a particular website, which helps Google decide how much it can trust showing a page to a user in a search result. Link building involves various strategies to encourage relevant websites to link to yours. This can be things like writing posts for an industry blog that links back to your company's website, asking to be included on websites that have a resource page which lists industry businesses, and much more. In addition to the SEO value of getting backlinks, well-placed brand mentions and links can bring relevant users to your site, giving you more warm leads.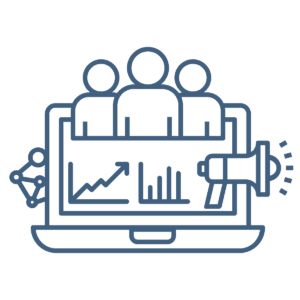 With SEO as part your online sales funnel…
Your website will rank higher in Google search results for the keywords that matter
You'll be getting traffic from users that are already searching for your services
You'll generate more leads because the people on your website are actually interested
Your team will know it's working because the phone is ringing and you're closing sales
Your cash flow is improving the results just keep growing every month
How to Win More Customers With Your Website
Fix Your Website
Fill Your Sales Funnel
Improve & Grow Your Business
Frequently Asked Questions
A modern, freshly designed site should perform better in search engines, but there is much more to ranking for your target keywords than just a fresh, new website. Even a website that has SEO "built-in" to the design needs ongoing work. Often the "built-in" components are just foundational elements. Unless you are one of less than 10 websites that have content on the topics you want to rank for, you'll need to work continually on your website content and off-site presence to maintain a first-page position for your target keywords.

Want to check to see if your website needs some technical SEO work? Click here to run an instant on-site SEO audit. 

Want a more in-depth review of your website? Click here to learn more about our comprehensive website audit.

It depends on a number of factors including the quality and relevance of your website content, the degree of technical optimization required, how popular your content already is, how many competing websites there are and how hard your competitors are working to rank their content. In general, with the right budget and focus, you should see your rankings begin to improve in 3-6 months and achieve desired ranking levels in 9-12 months. The good news is that once you build up momentum, your traffic will continue to build over time. Outsourcing your SEO can help you attain your goals. Click here to view a case study that with a chart that shows how it typically works.

SEO is more difficult to budget because unlike pay-per-click ads, where there is readily available data on what it cost per click for the keywords you target, SEO is a bit more of a gray area. That said, over time SEO traffic typically is 2X+ more cost effective than paid ads. Using that principle, we typically set SEO budgets at 50% of what it would cost for the same amount of paid traffic and then adjust up or down based on the urgency, level of competition and degree of effort required.

Not sure what you can afford to spend on marketing your website? Click here to use our marketing budget calculator. 

Are you wondering if investing in your website and SEO will pay off? Click here to calculate your ROI for improving your traffic and conversions. 

Local search marketing is for businesses small and large that service a specific geographic area. They may have a storefront, but not necessarily. Examples include plumbers, financial advisors, hotels, tourist attractions, business consultants, home builders, furniture companies, lawn care companies, etc.

We serve companies all across the USA. While some of our clients are in Lancaster, PA, others are in Texas, North Carolina, New Hampshire, and elsewhere.