Executive Summary
Elevated Roofing was an established company with a solid reputation in the Frisco community, but they wanted to increase their presence with new prospects in neighboring cities such as Plano and McKinney, where there was high competition with local competitors. They were already investing in various digital marketing efforts prior to their work with Improve & Grow but weren't seeing the kind of results they expected. After working with us for two years, Elevated Roofing experienced a 109% increase in annual website traffic and a 340% increase in roofing leads. Their roofing business grew significantly over that time and that growth enabled them to invest in expanding into the commercial segment as well as starting a complementary plumbing and HVAC installation company.
The Challenge
Prior to working with Improve & Grow, Elevated Roofing was employing various digital marketing tactics including paid Google Ads, search engine optimization, and content marketing, but weren't seeing a sufficient return on their investment. Their website wasn't ranking for important keywords in their immediate service area and their paid search ad campaigns had a lower than expected conversion rate.
The Solution
Elevated Roofing realized that they needed a change and reached out to Scott Berry, the owner of MarketCrest, a content marketing firm based in McKinney, TX, for advice. Realizing that their needs extended beyond content marketing, Scott pulled in the team at Improve & Grow to collaborate on a comprehensive evaluation of their current digital marketing efforts and the development of a new digital marketing strategy designed to help them achieve their business growth goals.
After taking a deep look into Elevated Roofing's online presence, their website, and Google Analytics, we were able to uncover key opportunities to increase their search visibility and improve website conversion rates. Using what we learned, we developed a custom strategy that included their desired mix of services and was crafted to meet their goals for obtaining more roofing leads. Supported with hard data and a sound online marketing strategy, we were able to show Elevated Roofing that we understood their challenges and knew the proper tactics to overcome those challenges and deliver a positive return on their marketing investment.
Working with the team at MarketCrest, we executed the new strategy, which involved a series of digital marketing tactics including technical SEO, on-page optimization, online presence management, link building campaigns, blog content development, social media marketing, email marketing, and digital PR work.
Throughout the two years working together, we completed several special projects in addition to our ongoing services. These included developing a flexible landing page template. This template aligned with their brand and allowed us to create landing pages that were optimized for conversion and search visibility. Pages built using this tool quickly became their most trafficked and highest converting pages.
We also worked to improve their local search rankings by creating service area pages for key cities throughout their service area. In addition, we expanded and optimized their presence on key directories. These tactics enabled their website to rank prominently for relevant roofing keywords in cities that were outside of their immediate locality, enabling them to expand their reach and market share throughout their target service areas.
The Results
In the two years of our work together, Elevated Roofing saw a 109% increase in annual website traffic and a 111% increase in website conversion rates which resulted in 340% increase in annual roofing leads. In that same period of time, the company grew by over 300% in annual revenue. This growth enabled Elevated Roofing to expand into commercial roofing and start a complementary plumbing and HVAC business.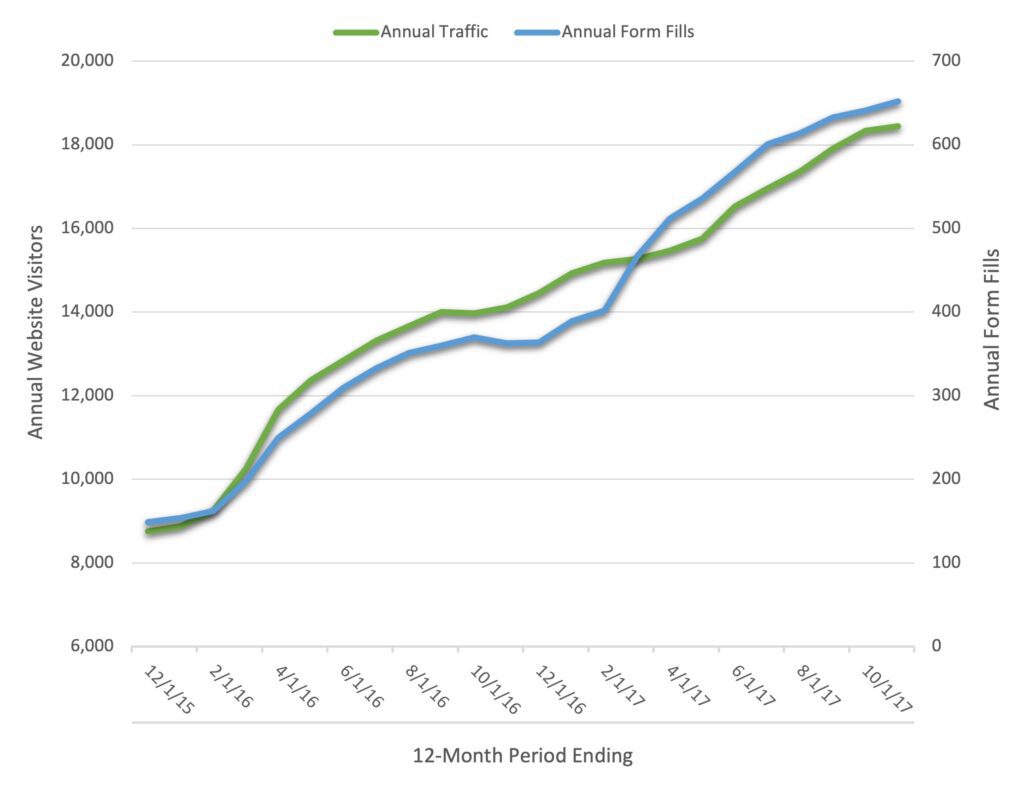 Client Quote
"Website traffic is up in our prime geographies. Combined with a better conversion rate, we're enjoying a break-out financial performance. We've expanded to keep up with demand and are expecting to continue the record-breaking results." Randy Hughes, CEO President
"Carl and his team are outstanding! I spent a number of years in the industry before I stepped out to operations and away from the marketing and development business. I have found it very difficult to find anyone that provides the level of service and QUALITY that I demand and know is possible in this industry. Carl and his team deliver exceptionally well, and you'd be hard-pressed to find a better team. I highly recommend them for anything related to online marketing and strategy as well as other things that they are capable of assisting with as well. You won't be disappointed!" James Baron, Marketing Manger
Are you ready to watch your leads grow like Elevated Roofing?
Use the button below to schedule a free strategy call to learn our proven process for inbound lead generation and to see if we are fit to partner together to work on your revenue growth