The Challenge
After working with Improve & Grow since 2015 and receiving a mix of services, including PPC, SEO, and CRO, HingePoint saw a tremendous growth in website traffic and leads. However, the out-of-the-box templated website code was slow and heavy, causing the site to be slow and Google to rank the site lower than desired.
Finnerty knew they had a lot of potential with their content and landing pages, but there were inconsistencies all over the site. Styles, call-to-action buttons, and messaging where a few of the areas that needed to be cleaned up.
It was clear there was a huge opportunity to improve conversion rates by addressing underlying website issues with load speed, consistent messaging and design, and user experience. Addressing these issues would result in a cleaner, faster website driving an organized marketing funnel.
The Solution
To help HingePoint accomplish their website goals, we conducted an initial client workshop to review and collect information regarding target personas, buyers journey and brand messaging.
We also outlined the following key project elements:
Create a custom theme design that is consistent with client branding and includes flexible page templates with modules that can be adjusted and combined as needed to create near-infinite layouts while conforming to the overall design
Create prominent call-to-action buttons that are integrated into relevant areas with the option to trigger opt-in forms via pop-up modal embedded form pages with form results that integrate directly with Salesforce CRM
Create custom post types for key content such as testimonials, team members, resources, etc. that can be integrated into relevant pages as needed to cross-promote and interlink content
After the workshop, we collaborated with HingePoint to create a custom website with a visual design that focused on their target customer, messaging that emphasized the brand story and improved website functionality.
Components that were redesigned included updated:
Header
Navigation
Footer
Home Page
Flexible Content Landing Page Template
Flexible Secondary Page Template
Lead Form Modal
Lead Form Page Template
The resulting website was faster with a more useful experience, multiple calls-to-action, and conversion opportunities at various points in the buying cycle, including content downloads, quote request forms and online chat. The new website design solution also integrates directly with their Salesforce CRM so that all new leads from the website are included in their sales teams lead reporting and tracking.
Key deliverables
The Results
HingePoint saw the results of the website project soon after the launch. Often times when a new site is redesigned and relaunched, the site will see some dips in traffic. However, in HingePoint's case, this didn't happen.
In fact, they immediately saw more leads on average coming into their new website.
In the 3+ months since the website was relaunched in February 2018, HingePoint has experienced a significant improvement in website conversion rates as well as continued growth in website traffic.
The website traffic from March 2018 to June 2018, immediately following the relaunch, was 8,443 visitors. Compare that to last year at the same time, there were only 5,920 visitors. This is a 43% increase.
The conversions also increased this year to 151 compared to last year's 78, a 94% increase. Looking at that in terms of the conversion rate, it increased from 1.3% in 2017 to 1.79% in 2018, after the relaunch.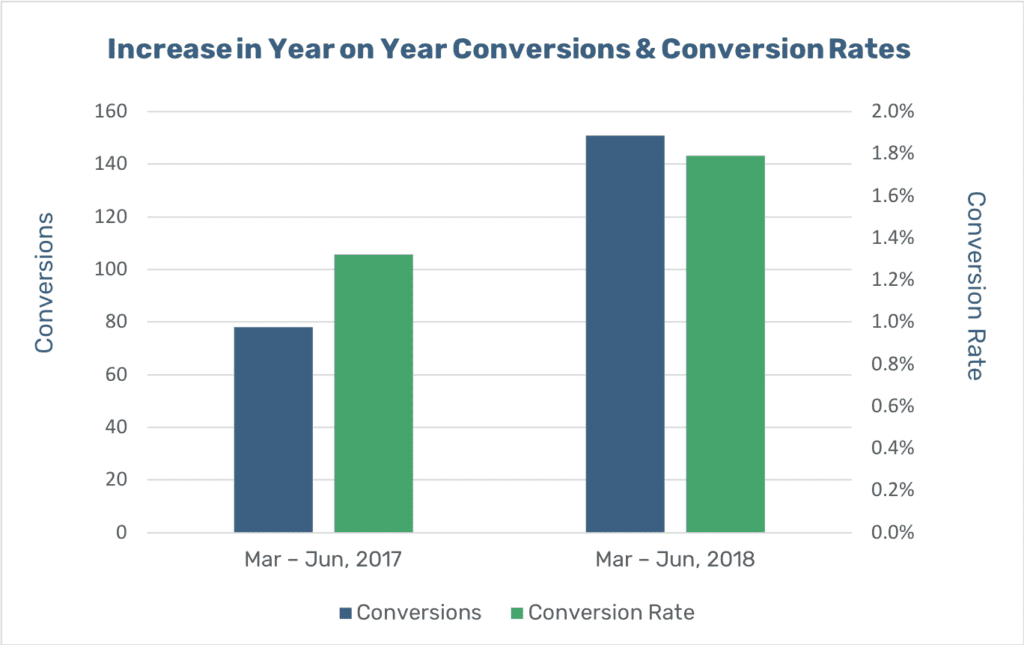 Upon the completion of the website project, HingePoint had achieved their goal of having a cleaner, faster website that is optimized for user engagement, lead generation, and search engine visibility. They are pleased with the ranking and performance and their new website with which to grow their business.
Here is what Finnerty has to say about the success of the campaign:
Improve and Grow is different because they not only know our business well, but our SEO and the nuances of what works and what didn't. They knew how to fix it from a marketing funnel point of view. But they also knew how to code clean templates that would help rank. Even as developers ourselves, we chose them because they had one solution to pull it all together and solve it all at once.
Want to win more customers like HingePoint?
[button class="primary" text="Schedule a discovery call with Improve & Grow" url="#schedule"]