Content Development, Copywriting, and Graphic Design Services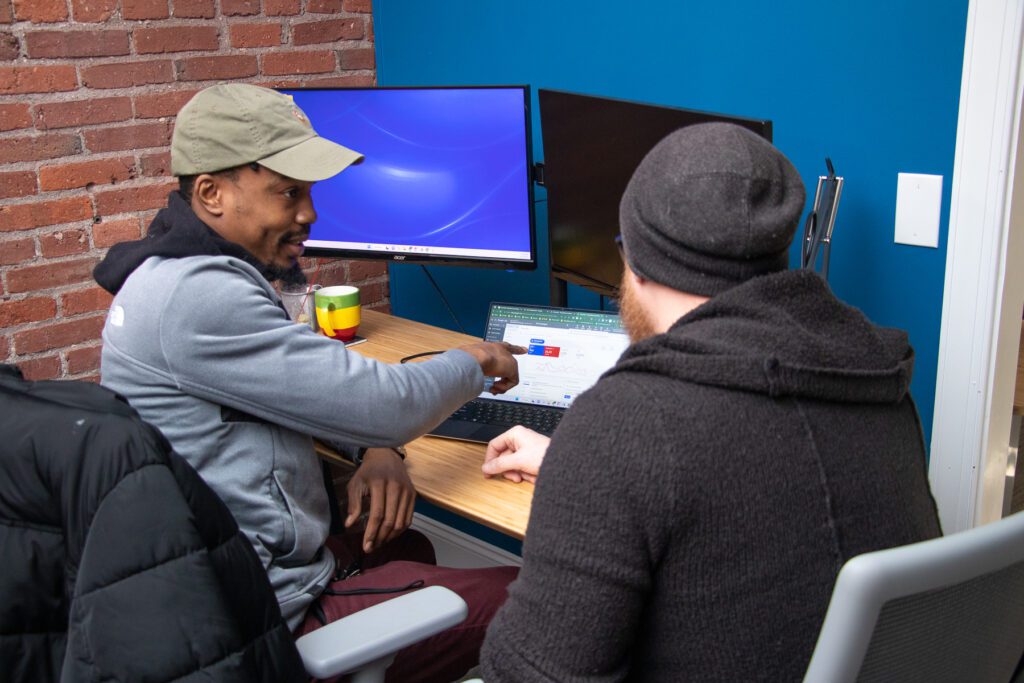 Crafting Your Lead Generation Engine with Precision and Creativity
In digital marketing, it's not enough to reach out to your audience—you need to captivate them. Our Content & Creative Services team excels at marrying strategy with creativity, crafting materials that capture attention and drive action. Every piece of content, every visual element, and every message has a role in creating a high-performance lead generation system. Let's delve into how.
Do any of these comments sound familiar?
Difficulty capturing target audience attention.
Inconsistent brand image and messaging.
Low engagement and conversion rates.
Ineffective brand value communication.
Inconsistent or low-quality content.
Outdated or misaligned visual materials.
Lack of strategic content planning.
The Power of Purposeful Content & Creativity
In today's saturated digital marketplace, consumers are constantly bombarded with information. To break through this noise, your content and design must be more than just beautiful—they need to resonate, engage, and inspire action. This is why we prioritize purposeful creation, ensuring every piece we craft aligns with your brand's strategy and goals.
Benefits of Content & Creative Services
Boosted brand visibility and recognition.
Cohesive brand narrative and image.
Increased engagement and conversions.
Clear communication of brand value.
Quality, authoritative content.
Memorable and relevant visual assets.
Aligned creativity and strategy.
Blog & Content Development
Establish Authority, Build Trust
Social media has transformed from a simple communication tool to a powerful platform for brand-building and customer engagement. With our tailored Social Media Marketing Ad Campaigns, you can tap into this potential seamlessly.
Positions You as an Expert
Quality content showcases your knowledge, building trust among potential clients.
Regular, SEO-optimized content draws potential leads to your site, increasing your digital footprint.
Engaging content keeps your audience coming back, nurturing leads throughout their journey.
Every word on your website has a purpose: to guide, to inform, and to convert. Effective website copy
With a few seconds to make an impression, the right words can make all the difference.
It takes the reader on a journey, showcasing the value you bring.
Every headline, button, and call to action is crafted to optimize conversions.
Speak Directly to Your Audience's Heart
It's not just about what you say but how you say it. Effective brand messaging:
Whether authoritative, friendly, or quirky, we help craft a voice that's unmistakably you.
By understanding your audience's needs and aspirations, we create messages that resonate on a personal level.
Effective messaging drives decision-making, turning passive readers into active leads.
Your Brand's First Impression
Your logo is often the first thing people associate with your brand. It's not just an image—it's a statement. A powerful logo
It succinctly conveys who you are and what you stand for.
Resonates with Your Audience
It connects emotionally, instilling trust and recognition.
A memorable logo can differ between a lead engaging with your brand or scrolling past.
Cohesive Aesthetics, Consistent Messaging
Consistency is vital in creating a memorable brand experience. Through art and creative direction, we ensure:
Every visual asset, from your website to promotional materials, carries a consistent brand aesthetic.
Your brand's story is told consistently across platforms and mediums, strengthening brand recall.
A harmonious blend of visuals and messaging amplifies engagement, driving leads deeper into your funnel.
The Symphony of Strategy and Creativity in Lead Generation
A high-performance lead generation system isn't about any single element—it's about how every piece, from the logo to the blog post, comes together in a symphony of strategy and creativity. By focusing on both the big picture and the minute details, we ensure that your brand doesn't just generate leads but captivates and converts them.

Ready to Transform Your
Brand's Digital Presence?
Understanding the power of content and design is the first step. The next? Integrating it seamlessly into a larger, strategic framework. Discover how our Growth Road Map can ensure every piece of content and every design choice propels your lead generation forward.
Frequently Asked Questions​

Your High-Performance
Lead Generation System Awaits
While stellar content and compelling design are essential pillars of digital marketing, they truly shine when integrated within a robust, strategic framework. Your lead generation system should not just attract audiences—it should resonate, engage, and most importantly, convert.

With the Growth Road Map, you're not just getting individual pieces. You're getting a comprehensive strategy that ensures every blog post, every design, and every message works in harmony towards your business goals.
Comprehensive Analysis

 Understand where you stand and where you need to go.

Strategic Blueprint

 A roadmap tailored to your brand's unique needs and aspirations.

Ongoing Support

 As your brand evolves, so does our strategy, ensuring you're always ahead of the curve.
Are you ready to elevate your brand's digital presence and supercharge your lead generation?