The Challenge
Despite being in business for almost 60 years, BR Williams was not seeing traffic coming to their website. They invested in a website redesign in hopes of increasing traffic and leads, but were not seeing the improvements they expected.
The company tried to make improvements to the site, but soon it became clear that in order to move the needle, they needed to take a different approach.
After working with MarketCrest, a marketing company based out of Texas, on a sales consulting engagement, the company decided that improving their online marketing would be key to their growth strategy.
BR Williams made the decision to work with MarketCrest, who provided content marketing services, in collaboration with Improve & Grow, who provide search engine marketing, online advertising, and website optimization services.
The Solution
Initially, we conducted an online marketing assessment of BR William's website to determine baseline data and growth potential. It also outlined the online marketing campaign objectives, including:
Increase website visibility to generate traffic from relevant users interested in supply chain management solutions through a combination of search engine optimization (SEO) and pay-per-click marketing (PPC)
Generate qualified online leads with a profitable return on marketing spend
For the first 6-9 months, we used PPC ad campaigns (Google search result ads) to drive initial leads. During that same time, we began to build specific landing pages for their services and locations and optimized all of their content for search visibility using target keywords.
MarketCrest provided content marketing services by creating in-depth, keyword-related blog articles, as well as advising on content, social media, and email marketing.
We then launched an aggressive link building campaign, establishing BR Williams' presence in key online directories.
With the initial groundwork for SEO work done, we began conducting ongoing SEO tactics. This included tracking and analyzing SEO campaign data (such as site audits, backlink profiles, and keyword rankings) to identify opportunities to improve BR Williams' rankings and visibility in Google search results.
As we identified those opportunities, we continued to provide ongoing optimization of website content, maintenance of on-site technical factors, and outreach to acquire new links that point to the website, brand citations, and social shares from a variety of sources.
All of these tactics worked together to continually improve search visibility and user engagement, increasing relevant traffic and leads to the company's website.
Key deliverables
The Results
BR Williams saw the proof of the SEO efforts when they saw the numbers.
Before efforts began, in a six-month period from January 2017 to June 2017, there were 5,977 website sessions. During the same six-month period of 2018, the website sessions totaled 16,365. That was a 174% year-on-year increase.
However, the most notable data was related to the increase in the organic traffic and organic conversions due to SEO efforts (as you can see in the chart below). In January 2017 to June 2017, the organic sessions and conversions totaled 3,300 and 247, respectively. In 2018, during that same period, there were 12,480 organic sessions and 386 organic conversions.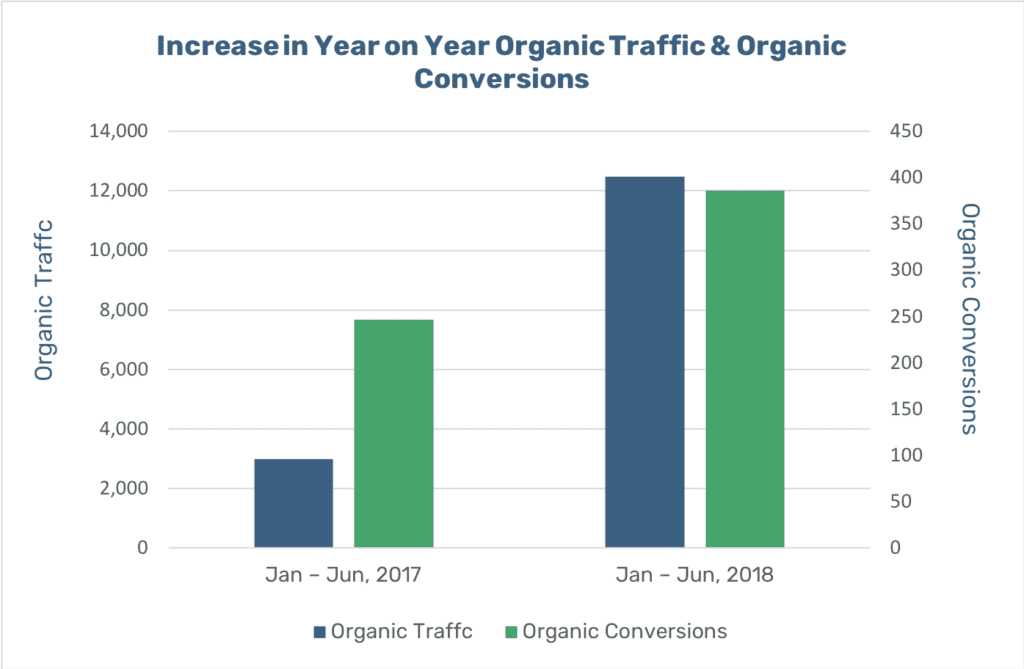 That is a 278% increase in organic website visits and a 56% increase in organic conversions. Meaning, more visitors were now finding the company's website through Google searches (without clicking on ads) and they were receiving qualified leads from that traffic.
Life for BR Williams looks very different today. In early 2017, they were receiving less traffic and qualified leads and today it includes an average of 80 qualified leads a month. Now, they no longer worry about their website being found online.
Here is what Misty Skinner, BR Williams' Vice President of Marketing, has to say about the success of the campaign:
My company has been working with Improve & Grow for over a year. Since working with their polite and professional staff we have seen a HUGE growth in our website traffic and leads. Digital Marketing was a new venture for us and though I may not understand (trying to learn) ALL that they do, I TRUST them completely to do the right thing. They are amazing at customer service and I would recommend them to any company that wants to improve and grow.
Want to win more customers like BR Williams?
[button class="primary" text="Schedule a discovery call with Improve & Grow" url="#schedule"]