Challenge
Since its opening, Refreshing Mountain has continued to grow and expand not only in activities and employees but in revenue. However, one place they had yet to realize their real potential was in their online marketing efforts.
It became clear to Justin Harnish, a second-generation owner, and Marketing Director, that online marketing represented a significant channel for each of Refreshing Mountain's five primary services: retreats, outdoor activities, cabin rentals, field trips, and team building.
The problem was because each service had a different target audience and varying sales process, they needed a unique strategy for each service.
Harnish had a limited budget and needed to be assured of a positive return on investment. He tried doing the services in-house and also outsourcing, but had yet to see concrete results.
In 2014, Harnish decided to partner with our Improve & Grow team in order to execute online marketing initiatives better and grow key business segments through targeted online marketing campaigns.
Solution
As their marketing partner, our first action was to improve the effectiveness of existing marketing campaigns, which included paid ad campaigns and social media marketing.
With those foundations in place, we then worked with them to develop a specific online marketing strategy for each line of business, including SEO, PPC, and website optimization. The following is the scope of the strategy and analysis that was identified:
Provide overall strategic direction & management of online marketing efforts
Develop annual marketing return on investment analysis; Participate in annual marketing strategy meetings & develop an annual online marketing plan
Maintain financial reporting tools and provide monthly reporting and analysis
Setup and maintain website analytics and conversion tracking and offer ongoing online marketing reporting and analytics
We then progressively implemented the services based on Refreshing Mountain's sales strategy, including the introduction of new products and services.
An on-going Search Engine Optimization (SEO) strategy was initiated. We monitored specific keywords related to Refreshing Mountain's services/activities in order to make strategic changes to the website that resulted in more users to the site. After the initial groundwork, we provided ongoing website maintenance and further optimization, both on and off their website, that resulted in continuous growth in traffic and sales leads.
Our Pay-per-click (PPC) efforts included paid search and display remarketing ad campaigns, which were managed and optimized for Google AdWords and Bing Ads. The management and coordination of social media promotion and referral partnerships were also conducted by our team.
We helped to redesign landing pages for critical services such as retreats, ziplines, team building, and group events, etc. We helped create supporting website content; set up website analytics and conversion tracking used to monitor traffic; and conversions like form fills, phone calls, or purchases. We then continued with ongoing maintenance as needed, as well as tested and implemented other conversion optimization techniques.
Additionally, our team helped Refreshing Mountain design, develop, implement, and maintain automatic email marketing campaigns that resulted in more website engagement. These timed, automated campaigns (also known as nurturing campaigns), helped to move interested users down the Refreshing Mountain's sales funnel without having to communicate with the user directly.
Key deliverables
Results
Refreshing Mountain has been our client for over 4 years. Over that time, their website traffic has grown by 59% and the number of online form inquiries has increased by 114%.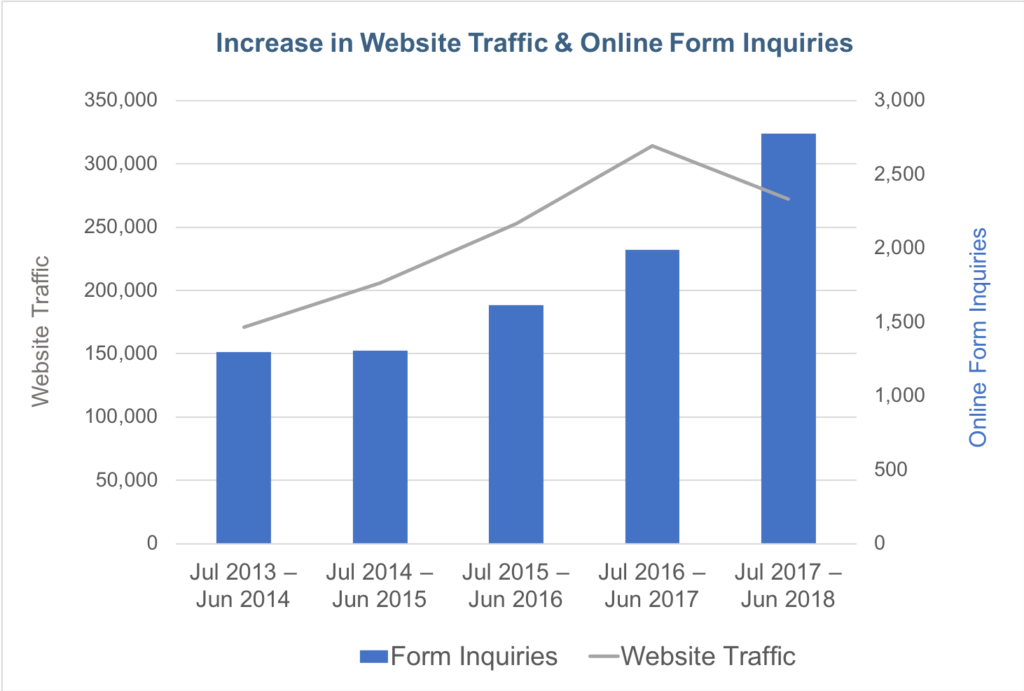 Refreshing Mountain has experienced consistent revenue growth over this period with each of their business segments experiencing a steady increase, most notably their outdoor activities segment, which has experienced phenomenal growth, including in direct, online bookings.
The increase in growth of these segments is the result of successful ongoing campaigns and optimization, as well as using online marketing tactics to accurately and strategically introduce new products and services.
Over the years working together, Refreshing Mountain feels our ability to compare data has continuously helped to direct the next steps and present opportunities for new sales growth.
Here is what Harnish has to say about the success of the campaign:
I have worked with Improve & Grow over the past 4 years. Before that, I worked with 2 other SEOs that over-promised and under-delivered. Not so with Carl. He has taken the time to understand our goals, study our market, and guide us toward being well positioned in every respect.
Want to win more customers like Refreshing Mountain?
Schedule a discovery call with Improve & Grow