The Challenge
When MJD's Property Solutions decided to establish adventureTURF as a separate division, Mike Dallmann found himself in a predicament: adventureTURF's website was not generating enough traffic.
Dallmann felt confident in his product and service and knew that in such a niche market there was certainly a high demand but with little traffic, he was not producing the leads, contracts, and work that he needed.
adventureTURF found EVH Marketing to help to optimize their website. In a collaborative effort to increase exposure to potential customers, Improve & Grow was brought in to help with paid ad campaigns and search engine marketing.
The Solution 
To help adventureTURF accomplish their goal, we conducted an initial online marketing assessment to determine the baseline numbers and data. Our research allowed us to learn more about the industry and inform the client of the likely outcomes before our campaigns even began.
The assessment helped us to outline the following online marketing campaign objectives:
Increase website visibility to generate qualified traffic from users interested in a playground surfacing solutions through a combination of organic search engine optimization and pay-per-click marketing
Generate qualified online leads with a profitable return on marketing spend
Prior to working with us, adventureTURF had no experience with search engine optimization (SEO) or pay-per-click marketing, so we started from the ground up.
We began by conducting a complete online inventory, as well as keyword research, and set them up with a Google Analytics account. This allowed us to create effective campaigns, analyze monthly performance reports, and identify actions based on trends.
For SEO purposes, we monitored target keyword ranks and configured SEO campaigns, as well as optimized website landing pages to target keywords.
Our paid ad efforts included setting up a Google AdWords account, and configuring budgets, bid strategies, and search ad campaigns, all in line with strategy and budget. We developed the ad copy based on client selling points and target customer pain points.
Display re-marketing ad campaigns were also used to re-engage qualified website visitors. All the campaigns were monitored and regularly maintained to optimize key performance metrics.
At the same time as our efforts, EVH Marketing worked to optimize the website, improving user engagement and conversion rates and conducted ongoing maintenance of website content and SEO work.
Key deliverables
The Results
adventureTURF knew they were seeing results when they were no longer able to keep up with the number of work requests they were receiving.
In the first month, they began receiving leads from their paid ad campaigns. After 3 months, they started to see an increase in organic search traffic. After a full year, they went from 57 organic search sessions per month to over 2,200 sessions per month, a 38X increase!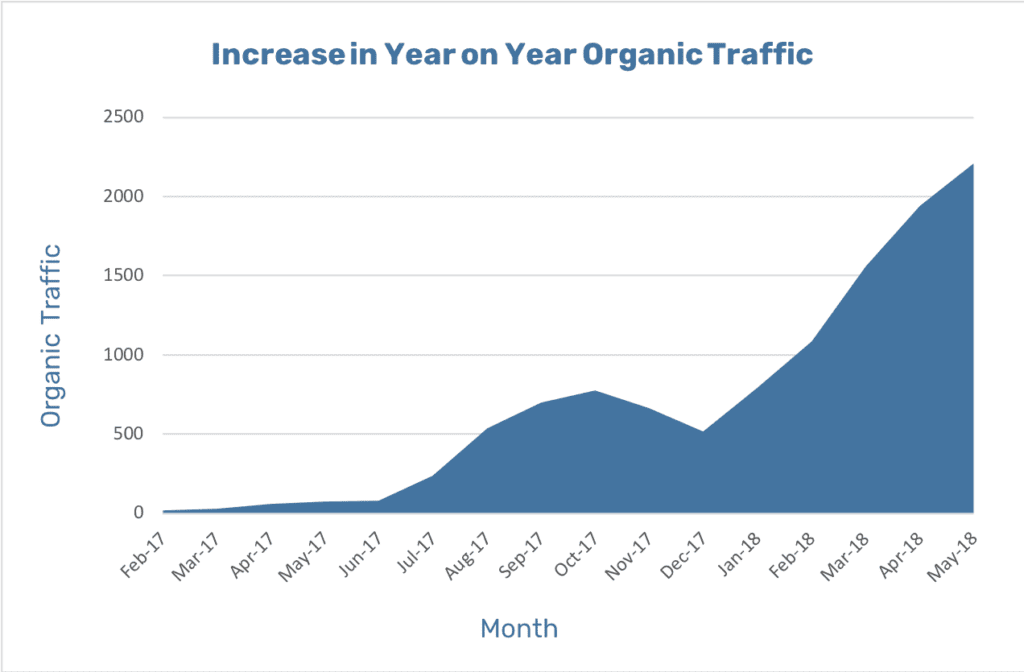 Before efforts began, the website conversion rate was less than 0.5% and they receive at most one lead per month. At the 12 month mark, they were receiving 68 monthly website leads.
After working together for a number of months, adventureTURF had certainly accomplished their goal of increasing exposure and raising company awareness. The company went from having a need for an increased workload and looking for new jobs, to juggling the number of jobs and new projects they had at any given time.
Here is what Dallmann had to say about the success of the campaign:
The marketing campaign has FAR EXCEEDED my expectation. Not only are my current staff and I completely booked with new projects, we are looking to add new staff to accommodate our influx of business. This happened in a short 6 months. I could not be more impressed with the results of this campaign!
Want to win more customers like adventureTURF?
Use the button below to schedule a free strategy call to learn our proven process for inbound lead generation and to see if we are fit to partner together to work on your revenue growth